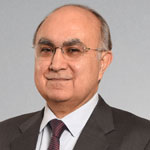 Mr. Aamir H. Shirazi is the President of Atlas Group. He graduated from Claremont Mckenna College, California and completed his OPM from Harvard Business School. He was the Chief Executive of Atlas Honda Limited for over eleven years. He was also appointed as professional director on the Board of Lahore Stock Exchange for two consecutive terms by the Securities & Exchange Commission of Pakistan. He has been Honorary Consul General of Japan, Lahore since 2002. He is also on the Board of Murree Brewery Company Limited and Total Parco Pakistan Limited.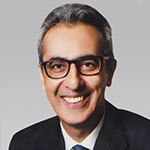 Saquib Shirazi has been the Chief Executive Officer of Atlas Honda Limited since 2000. He is a graduate of the Wharton School of Finance and did his MBA from the Harvard Business School.
He started his career with the Bank of Tokyo and was subsequently appointed as the CEO of Atlas BOT Investment Bank. In addition to being a member of the Atlas Group, he is a Director of Pakistan Cables and Vice Chairman of Pakistan Business Council. In the past, he has served on the Boards of Pakistan Petroleum Limited, National Refinery Limited, Sui Southern Gas Company Limited, Cherat Cement Limited, Cherat Paper Limited, Privatization Commission of Pakistan and as Chairman PAMA. He has also served on Harvard Business School's Global Alumni Board and was its President for the years 2006-2008. He is currently a member of Prime Minister's Business Council, Engineering Development Board, Knowledge Economy Task Force as well as Harvard Business School's Advisory Board.
Mr. Frahim Ali Khan has over 48 years of experience in General Management, Finance, Investment and Taxation. He graduated in commerce from University of Karachi in 1965 and also obtained a degree in law from the same university. He also attended the Senior Managers' Program at Harvard University, USA, Financial Management Program from Stanford University, USA and General Management Program from Insead University, France. He joined the Atlas Group in 1967 and has served in different positions. Currently, his other directorships include Atlas Battery Limited, Atlas Power Limited, Atlas Engineering Limited, Shirazi Trading Company (Private) Limited, Atlas Hitec (Private) Limited, Atlas Metals (Private) Limited and Atlas Asset Management Limited. Earlier, he has also served on the boards of Atlas Honda Limited and Atlas Insurance Limited and has been CEO of Shirazi Investments (Private) Limited, Shirazi Trading Company (Private) Limited and former Atlas Investment Bank Limited.
Mr. Bashir Makki is an MBA from IBA, Karachi and has over 35 years of corporate management experience. He formerly worked with ICI Pakistan Limited for 22 years, which also included 2 years of secondment with ICI Malaysia Holdings.
He is a member of the Group's Executive Committee and holds the position of Group Director for Human Resources & HSE. Additionally, he also oversees the Trading Company's operations.
Mr. Makki is a certified trainer and has over the years conducted several organizational development programs. He has also attended executive development programs at Harvard Business School, U.S.A. and Ashridge College in the U.K. He is a 'Certified Director' from the Pakistan Institute of Corporate Governance.
Mr. Suhail Ahmed is the Group Director Auto Parts of Atlas Group and Chief Executive Officer of Atlas Autos (Pvt.) Limited. He acquired Masters degree in Economics and thereafter obtained a degree in Law from University of Karachi. He also attended various courses including Advanced Management Program at Harvard University, USA. He has 41 years of experience in General Management, Finance, Investment and Taxation. Currently, his other directorships include Atlas Services Limited. He has also previously served on the Board of Atlas Engineering Limited.