Atlas Autos (Private) Limited is a private limited company. It was incorporated on March 16, 2011 as part of the Atlas Group, one of the largest automobile manufacturing conglomerates in Pakistan and one of the leading players in motorcycle manufacturing industry.
Atlas Autos was established to manufacture high quality auto parts and components at competitive prices. Over the years, Atlas Autos has rapidly evolved into a strategic pillar of the Atlas Group. With businesses ranging from manufacturing of motorcycle parts indigenously for motorcycles produced by Atlas Honda Limited to provision of complete logistics and warehousing solutions for Atlas Group companies. Atlas Autos is playing a key role in controlling manufacturing costs while maintaining the highest of quality standards to ensure that Honda two-wheelers remain way ahead of their competitors and customers enjoy a seamless experience at affordable price.
To maintain its high standards of safety, reliability and performance, Atlas Autos has also entered into technical collaboration agreements with the following international partners:
Showa Corporation, Japan
F.C.C. Co. Ltd., Japan
Atsumitec Co. Ltd., Japan
Daido Kogyo Co. Ltd., Japan
Keihin Corporation, Japan
Yamada Manufacturing Co. Ltd, Japan
Toyo Denso Co. Ltd, Japan
The Way Forward
Keeping in view the ever increasing demand of two-wheelers in the country, Atlas Autos plans to expand its production facilities in line with the production requirements of Atlas Honda Limited. In addition, it has recently established facilities for manufacturing of motorcycle chains in collaboration with Daido Kogyo Co. Ltd, Japan. Furthermore, the Company is also in the process of establishing facility for manufacturing of carburetors in collaboration with Keihin Corporation, Japan.
Registered Office:
Federation House, Shara-e-Firdousi, Clifton, Karachi
Manufacturing facilities: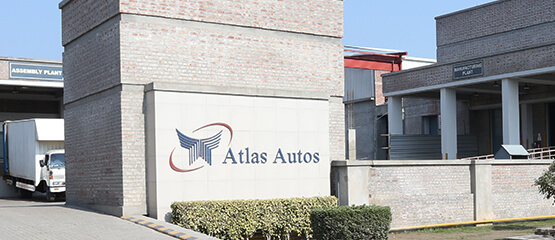 26-27 KM, Lahore-Sheikhupura Road, Sheikhupura
Spread over an area of 131,254 sq.ft., the plant is strategically located in close proximity of the manufacturing facility of Atlas Honda Limited.
15th Mile, National Highway, Landhi, Karachi
Located in the Atlas Industrial Park over an area of 24,025 sq.ft., this factory works in close coordination with several other group companies.
General
Company registration number: 0075255
National tax number: 3771196-2
Parent company: Shirazi Investments (Private) Limited
Subsidiary: Atlas DID (Private) Limited
Auditors: ShineWing Hameed Chaudhri & Co. Chartered Accountants
Legal advisor: Mohsin Tayebaly & Co.
Tax advisor: Ernst & Young Ford Rhodes Sidat Hyder, Chartered Accountants
Memberships of major associations:
Karachi Chamber of Commerce & Industries
Pakistan Association of Automotive Parts Accessories Manufacturers
Sheikhupura Chamber of Commerce & Industry
Financial
Authorized Share Capital: Rs. 2,650 Million
Paid up Capital: Rs. 1,000 Million
Annual Revenue 2018-19: Rs. 13,782 Million
Bankers:
Allied Bank Limited
Habib Bank Limited
Habib Metropolitan Bank Limited
Meezan Bank Limited
National Bank of Pakistan
Standard Chartered Bank (Pakistan) Limited