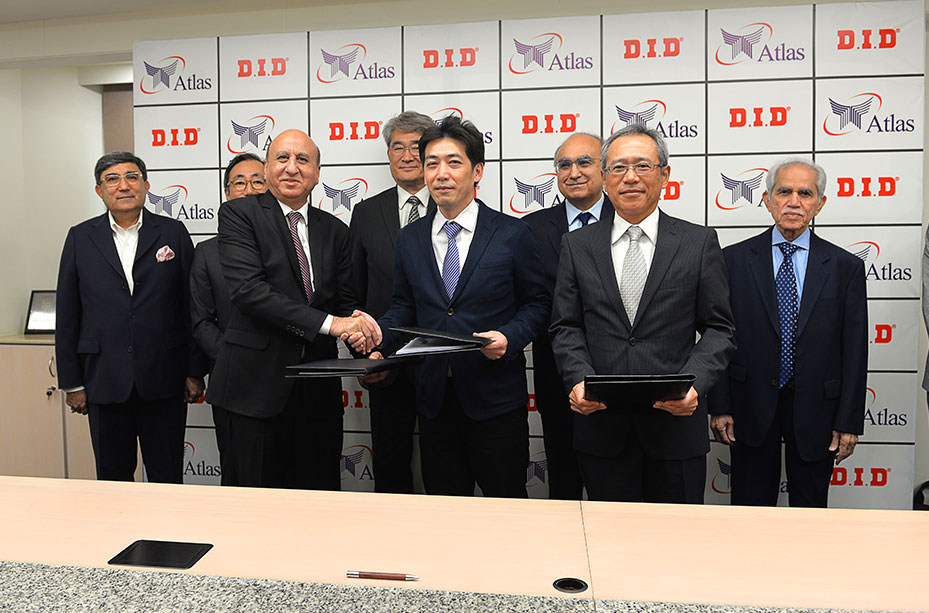 Joint Venture Agreement (Atlas Group and DID Group Japan) in Pakistan
JUNE 18, 2019
We proudly announce that Atlas Group and DID Group Japan have agreed to establish a Joint Venture Company in Pakistan for the integrated-production of motorcycle chains.
In November 2017, Atlas Autos (Private) Limited entered into a Technical Collaboration Agreement with DAIDO Kogyo Co. Limited (DID) and started to assemble motorcycle chains in Pakistan.
Both Groups have now decided to deepen the relationship by establishing a Joint Venture Company that provides consistent quality, cost and delivery services to motorcycle manufactures and the after-market suppliers in Pakistan by starting an integrated production of motorcycle chains in Pakistan.
Both Atlas Group and DID are renowned names in the manufacturing and marketing of auto products. Atlas Group is best known for manufacturing and marketing of motorcycles and cars in collaboration with Honda Motor Company, Japan. It also manufactures various hi-tech components in-house in technical collaboration with leading Japanese components manufacturers including DID. DID is a leading supplier of advanced automotive technology, systems and components for the world's major auto-manufacturers and has operations in numerous countries around the world.
The venture marks a significant milestone in the collaboration between two Companies as it strengthens an already excellent co-operation between the two partners.
Details of the joint venture company
| | |
| --- | --- |
| Company Name: | Atlas DID (Private) Ltd. (proposed) |
| Location: | Atlas Industrial Park, Landhi – Karachi |
| Business scope: | Sales and manufacture of motorcycle chains |
| Capital: | 1.2 billion Pakistan rupees(8 million USD /940 million JPY) |
| Establishment: | July 2019(Plan) |
| Capital contribution ratio: | Atlas Autos (Private) Ltd. 60% Daido Kogyo Co., Ltd. 20% Daido Sittipol Co., Ltd. 20% |
Future Outlook
| | |
| --- | --- |
| Start mass production: | October 2019 |
| Integrated Production: | May 2021 |
| Employees: | 180 persons |
| Production capacity: | 2 million chains (2019) |