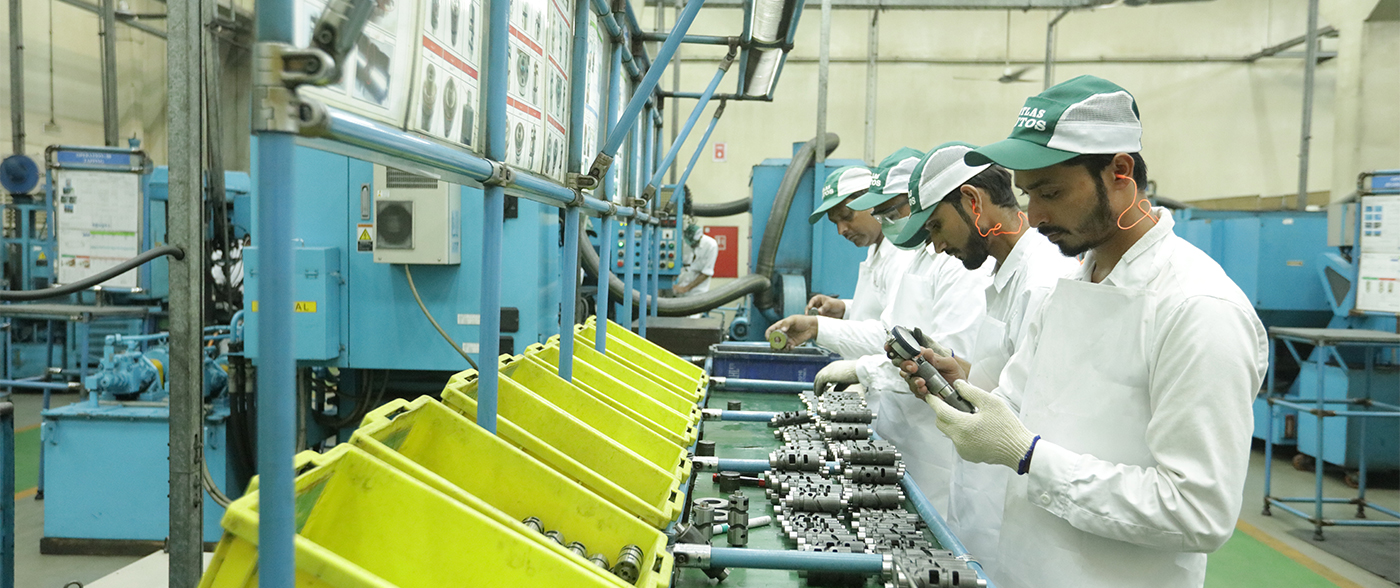 Manufacturing of Shock Absorber:
Atlas Autos assembles shock absorbers from parts produced in-house as well as from purchased parts. Several related shops have been systematically added over the years and currently, almost 85% of the parts used in assembly of shock absorbers are being manufactured locally under strict quality control standards in Technical Collaboration with Showa Corporation, Japan.
Following are the shops related to the Shock Absorber Assembly which are also located at Atlas Industrial Park (AIP), Sheikhupura:
Gravity Die Casting Shop: The shop has 10 GDC machines to cast Case Bottom (one of the main parts of front shock absorber). Case Bottoms for all models are casted in this shop.
Case Bottom Machining Shop: Case Bottom machining shop produces Case Bottom for Honda motorcycle: CD-70, CG-125 & Pridor.
Case Damper Shop: Case Damper is a part of rear shock absorber. This shop carries out projection and condenser welding of Case Damper of CD-70 and CD-Dream models of Honda motorcycles.
Buffing Shop: Buffing Shop is divided into two portions. One portion uses belt type buffing for the buffing of Case Bottoms for CD-70, CG-125 & Pridor models of Honda motorcycles. Whereas, the other portion uses buffing emery wheel to buff left/right Crank Case Covers of all models of Honda motorcycles except CD-70.
CAD/CAM (Computer Aided Design/Manufacturing) Shop: This shop uses three axis machining centers integrated with latest computer software for maintenance of dies used for gravity die casting machines.