Spare Parts Logistics (SPL)
Atlas Autos operates its Spare Parts Logistics Division using cutting-edge technology. Our solution-based features to fulfill the requirements of our esteemed clients, driven by our tradition of continuous innovation and fueled by investment in development of our technological solutions mean that our clients enjoy maximum value and efficiency to remain ahead of their competition.
Effective and cost efficient services using cutting-edge technology.
Speedy operations to meet requirements of the clients.
Top notch, back-end technological support to remain synchronized with the modern operational environment.
The SPL Division also provides 3PL (Third Party Logistics) services. Our functions range from Logistics of spare parts to the management of supply chain operations including delivery of goods at the dealer's doorstep.
Order Fulfillment Process Flow Chart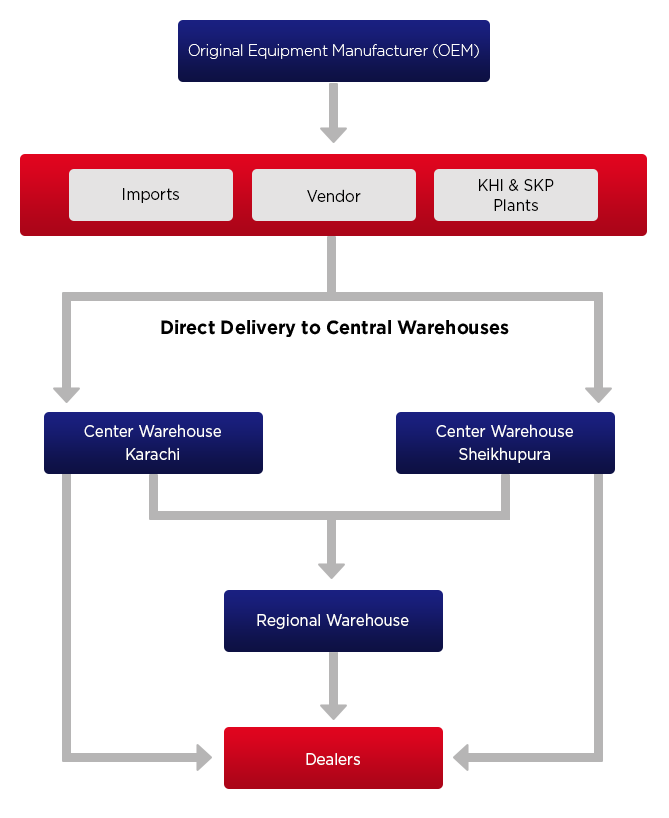 Freight tracking through Electronic Data Interchange (EDI): The SPL Division offers various features to add value to our clients. Features like freight-tracking and auto pick-up through EDI with carriers enable our clients to choose the proper limit of liability to optimize their freight charges.
System integration: Our systems connect our clients' internal servers to our web-based transportation management system to enable our customer to check the status of their consignments anywhere at any time.
Web based online system: Our online system enables our clients to check important information related to their shipments.
Mobile application: Our mobile application enables our client to track important information related to their consignments including shipment status, routing information, delivery details, weight and number of cartons.
Atlas Honda Limited
Atlas Battery Limited
Honda Atlas Power Product (Private) Limited